Dallas Invents: Patents Granted in Dallas-Fort Worth-Arlington
Dallas-Fort Worth ranked No. 10 for patent activity out of 250 metros.
Patents granted include:
Daifuku Co.'s automatic tire loader/unloader
DFB's treatment of skin malignancies using nanoparticles
Toyota's assessment of human driving performance using autonomous vehicles
Samsung's method for 360-degree video navigation
AiBUY's dynamic binding of supplemental content to video
Dallas Invents is a weekly look at U.S. patents granted with a connection to the Dallas-Fort Worth-Arlington metro area. Listings include patents granted to local assignees and/or those with a North Texas inventor. Patent activity can be an indicator of future economic growth, as well as the development of emerging markets and talent attraction. By tracking both inventors and assignees in the region, we aim to provide a broader view of the region's inventive activity. Listings are organized by Cooperative Patent Classification (CPC).
THIS WEEK, BY THE NUMBERS
Week of Feb. 11, 2020 | Dallas-Fort Worth-Arlington (19100)
117 patents granted Ranked No. 10 in patent production out of 250 metros
---
NO. OF PATENTS BY CLASSIFICATION
TOP LOCAL ASSIGNEES (NO. OF PATENTS)
Texas Instruments Inc. (Dallas) 18
SanDisk Technologies LLC (Addison) 5
Futurewei Technologies, Inc. (Plano) 4
CPG Technologies LLC (Italy) 3
Alliance Sports Group L.P. (Grand Prairie) 2
UNASSIGNED 11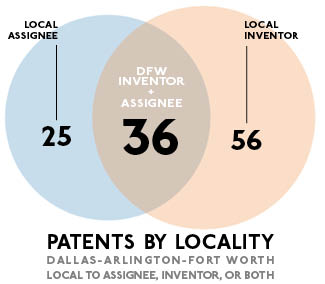 ---
TOP LOCAL INVENTORS (NO. OF PATENTS)
Adam Cole Ewing (McKinney) 2
David Gerard Ledet (Allen) 2
---
SPEED: APPLICATION TO ISSUE (NO. OF DAYS)

166 days
Differential amplifier including cancellation capacitors
Patent No. 10560064
Assignee: Texas Instruments Inc. (Dallas)
Inventors: Bharath Karthik Vasan (Tucson, AZ), Martijn Snoeij (Erding, DE), Srinivas K. Pulijala (Tucson, AZ), Steven G. Brantley (Satellite Beach, FL)

2,545 days
Requestor-based funds transfer system and methods
Patent No. 10558957
Assignee: The Western Union Company (Denver, CO, US)
Inventors: Amy M. Dunker (Dallas, TX, US)
Dynamic binding of video content
Patent No. 10559010
Inventor(s): Christian Briggs (Austin, TX), Robert K. Spitz (Amherst, NH), Todd Downing (Irving, TX)
Assignee(s): AiBUY, INC. (Dallas, TX)
Law Firm: No Counsel
Application No., Date, Speed: 15845763 on 12/18/2017 (785 days app to issue)
Abstract: A method of dynamically binding supplemental content to video content includes receiving the video content at a device and identifying at least one value related to one or more products or services, where the at least one value is associated with the video content. The method also includes obtaining the supplemental content based on the at least one value, where the supplemental content provides additional information about the one or more products or services. In addition, the method includes dynamically binding the supplemental content to the video content and positioning the supplemental content in association with the video content using a supplemental interactive display.
[G06Q] DATA PROCESSING SYSTEMS OR METHODS, SPECIALLY ADAPTED FOR ADMINISTRATIVE, COMMERCIAL, FINANCIAL, MANAGERIAL, SUPERVISORY OR FORECASTING PURPOSES; SYSTEMS OR METHODS SPECIALLY ADAPTED FOR ADMINISTRATIVE, COMMERCIAL, FINANCIAL, MANAGERIAL, SUPERVISORY OR FORECASTING PURPOSES, NOT OTHERWISE PROVIDED FOR [2006.01]
Read More:
https://dallasinnovates.com/dallas-invents-117-patents-granted-for-week-of-Feb-11/
https://dallasinnovates.com/dallas-invents-patents-granted-in-dallas-fort-worth-arlington-2/